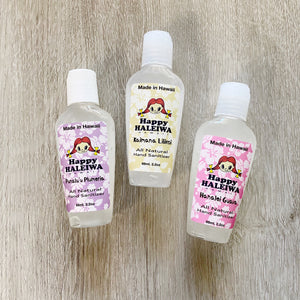 Product Details
Kills 99.9% of germs and bacteria. Contains 68% alcohol.
Enriched with moisturizing aloe vera that keeps skin from drying out. Created with organic ethanol, distilled from sugar cane. No harmful chemicals.
Fresh, organic and made in Hawaii.  Gentle on your skin.
Sanitizes & moisturizes skin on contact
Cleans & Refreshes
Long lasting protection against germs & bacteria, kills 99.9% of germs
Non Toxic
This is a value gift set of 3 hand sanitizer. The set includes the plumeria, lilikoi, and guava scented hand sanitizers.