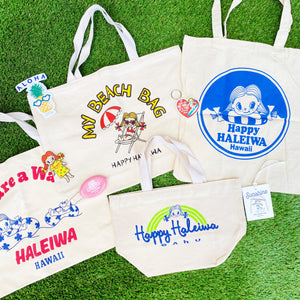 Product Description
Fukubukuro bags or lucky bags are part of Hawaii and Japanese traditions that make shopping more fun and are full of amazing surprises. Each lucky bag is filled with an assortment of surprise goodies. No two bags will contain identical items. Items from the picture will vary. 
Here are some of the items that you will get in your lucky bag: 

1 Mini Canvas Tote

1 Aloha Tote
1 Mahalo Tote
1 Nalu Tote
5 accessories

These lucky bags are an excellent value. These bags will contain more than $110 worth of surprises and goodies.
Happy Shopping!